Why do I need to do this?
Google's IoT platform (Internet of Things) is shutting down as of August 15th, 2023. Your Anova Oven uses this platform to communicate to your Oven. Due to the shutdown, we've transitioned your connectivity to a different service (AWS or Amazon Web Services).
This process will happen overnight automatically - until August 15th, 2023 - when Google shuts down the IoT services.
Will I still be able to connect to my Oven after August 15th, 2023?
If your Oven is under the old firmware (see firmware revisions HERE), then you will need to follow the connection process listed below to re-successfully connect your oven.
If your Oven is already on firmware version 2.0.11 or greater, then you are already on the new service and you do not need to do any further steps!
How do I see what firmware my Oven has?
1. Open the oven app and navigate to the More menu.
2. Scroll down to the General section and look at the Firmware Version listed.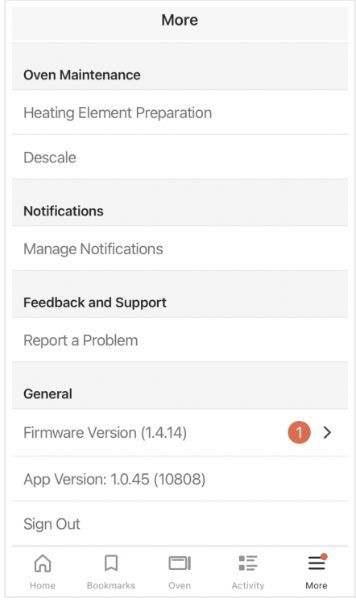 How do I connect my Anova Oven if the Firmware is 1.4.24 or lower?
Connecting your Anova Precision Oven on older firmware versions 1.4.24 or lower.
Total time to connect: Approximately 10-30 minutes.
Determine whether you have a 120V oven or 240V oven. If you're not sure, find the Serial Number on the bottom of the oven and look at the middle section between the dashes.
Example below:
AN900-**US10**-1234567
120V Ovens begin with codes: US00 & US10
240V Ovens begin with codes:

AU00, AU10, EU00, EU10, UK00, UK10
Using the table for your type of oven find the Best Connection Window for your time zone. You will need to plug the oven in and get it connected to your wireless network during this time window. In some cases, the Best Connection Window will be prohibitively late or early. If so, choose a time listed under Additional Windows.
If this is your second attempt with a previously connected oven, log into the app while the oven is still unplugged and press Disconnect My Oven under the More tab. Then quit the app before plugging in the oven.
Plug in the oven during one of the listed Connection Windows for your time zone
Watch the WiFi icon on the handle.

If the WiFi icon is solid (not blinking), your oven is connected to your WiFi network using credentials you have previously provided.
If it is blinking after the oven has fully booted (about a minute) you will need to go through the pairing flow in the app.

Log in to the Oven App and navigate to the More tab.
Click Connect My Oven
Follow the instructions to pair with the oven using the 4-digit code.
Enter your WiFi credentials when prompted. After this step, the app will show that it is attempting to connect but will never provide the success message. This is because it is looking for your oven on our new infrastructure but not finding it.
Check to see that your WiFi light stops blinking. If so, you have successfully connected the oven to your network and can move to the next step.

Using the same lookup table, find the Update Time for your time zone. This indicates when your oven will attempt to update. If you have plugged in during the Best Connection Window your oven may make multiple attempts to update during the Update Time. If you have used one of the Additional Connection Windows, it will only make one attempt to update.
After the end of the listed Update Time, check your oven to see if it now connects with the phone.

If the oven does not appear connected in the app, unplug it for at least 5 minutes, wait for the next available Connection Window, and try again.
| | | | |
| --- | --- | --- | --- |
| Time Zone (examples) | Best Connection Window | Update Time | Additional Connection Windows |
| PST (120V Oven) | 7:15 PM to 1:15 AM | 11:00 PM to 2:00 AM | 3:15 PM to 5:45 PM |
| EST (120V Oven) | 10:15 PM - 4:15 AM | 2:00 AM - 5:00 AM | 10:15 AM - 12:45 PM 6:15 PM - 8:15 PM |
| ACST (240V Oven) | 5:45 AM - 11:45 AM | 9:30 AM - 12:30 PM | 5:45 PM - 8:45 PM 1:45 AM - 4:45 AM |
| CET / WEST / BST / IST (240V Oven) | 9:15 PM - 3:15 AM | 1:00 AM - 4:00 AM | 9:15 AM - 11:45 AM 5:15 PM - 7:45 PM |
| HKT (240V Oven) | 4:15 AM - 10:15 AM | 8:00 AM - 11:00 AM | 4:15 PM - 6:45 PM 12:15 AM - 2:45 AM |
What if I'm in a different time zone?
The times listed above would be relevant to your specific time zone. Please use a local time zone converter to determine your accurate time windows.
Example: PST to EST change the connection window of 7:15pm to 1:15am PST to 10:15pm to 4:15am EST.
What does Best Connection Window mean?
Make sure to unplug your oven, then plug the oven during the Best Connection window. This means you will need to connect the oven to the app with your wireless network. Example: If your time zone is PST, plug the oven during the connection window 7:15 PM to 1:15 AM PST.
What does Update Time mean?
Once you have successfully connected your oven, the Update Time means the firmware will attempt to update. Example: If your time zone is PST, the firmware update attempt is 11:00 PM to 2:00 AM PST.
What does Additional Connection Windows mean?
If you missed the Best Connection Window, there is an additional Connection Window where you can connect your oven. Example: If your time zone is PST, you may try connecting again 3:15 PM to 5:45 PM PST